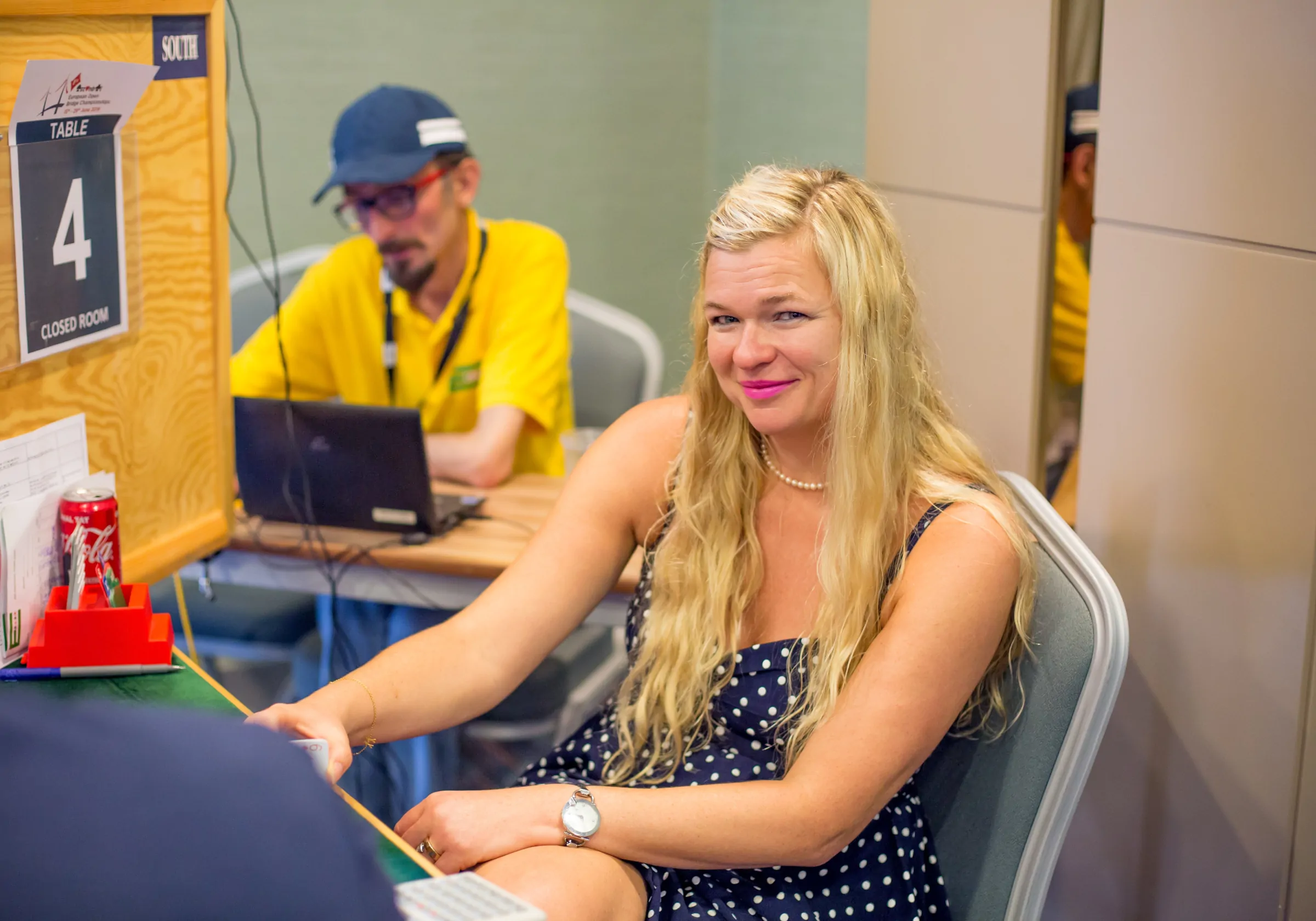 ACES & KNAVES is an exhilarating 55-minute documentary of the highs and lows of bridge told by those closest to the game. Members of the BAMSA team share their thoughts.
Professor Samantha Punch
BAMSA Project Lead (bridge player)
Jackie Paré is a storyteller, not a marketeer. She made the film to capture the highs and lows of bridge rather than to sell bridge. Her aim was not to promote the game, so it is curious that others review it on those grounds.
Almost universally, the bridge community has welcomed the film. As well as being high enjoyable, it speaks to an audience outside the existing bridge world. As one player put it: 'It's really brilliant. It's at a level where it could be shown generally. That would really be good for the game.'
Interestingly, what some bridge players criticise about the film is the emphasis on cheating, and that is the part that non-bridge-players liked the most. Players worry that too much publicity around cheating puts the game in a bad light. However, in my view, any publicity – good or bad – that raises eyebrows also helps to draw people in.
Reviewers tend to ask a lot of bridge films – to explain bridge, to sell it, to tell a captivating story and more. A tough call for a one-hour documentary. A live conversation about the film took place on Sunday 23 May 2021 and the recording now available (link below).
The BAMSA conference at the end of June will consider many of the themes raised by the film and by these reviews – cheating, gender, elite players, bridge as a mindsport, marketing bridge. Each of these reviews reflects a different take on the film. Like bridge, the film is multi-faceted. Different aspects appeal to different people. One clear message is, there is something in the film and the conference for everyone.
Jordan Maclean
BAMSA Research Assistant (non-bridge-player)
ACES & KNAVES is an intriguing title, which brilliantly captures the 'triumphs and travails' between Aces and Knaves.
On the one hand, the film is full of personal accounts of players' experiences of the game of bridge. Many of the players interviewed are world class (the Aces). Their reflections will resonate with players of all standards. The documentary demonstrates that bridge is multidisciplinary and can act as a conduit to skills that can be transferred into finance, business, psychology, and education.
On the other hand, the film highlights the Knaves (the cheats). The film focuses on two pairs accused of cheating in 2015: Lotan Fisher and Ron Schwartz and Fulvio Fantoni and Claudio Nunes. This aspect of the film reveals the ways in which players can convey unauthorised information to their partner, using hand gestures and signalling, by moving and positioning cards and trays. Neither pair accepted the invitation to appear in the documentary.
Importantly, the film reaffirms the need for bridge organisations to move towards greater regulation, to support whistle-blowers such as Boye Brogeland, and to introduce meaningful punishments. Introducing new forms of digitisation for dealing hands is one solution, although as the online cheating scandals of 2020 demonstrates, online bridge is vulnerable to a different type of cheating.
The vibrant animations and lively music bring the game to life in the documentary. Film sequences focus on the rituals of the game and how people view, hold, shuffle, place, and pick up cards. The action-oriented filming creates a spatial and material sense of how bridge is played and what it is like to be at the bridge table with players. The placement of bidding boxes, screens between players, seating arrangement, bridge tables, and hand records are revealed. In addition, the animated drawings make the history and rules of the game accessible to non-bridge audiences.
Miriam Snellgrove
BAMSA Research Fellow (non-bridge-player)
As a non-bridge player researching bridge, part of my bridge journey has been to learn to familiarise myself with some basic rules of bridge as well as significant elite bridge players. In that sense, Aces and Knaves is very good at providing a non-bridge player with the views and opinions of key people and players in the bridge world. I also found the visual explanation of bridge very useful, though a little fast and could have watched that again to fully grasp the complexity of the game.
A further part of BAMSA's research, is to rethink, challenge and change the image of bridge. Whilst Aces and Knaves does not set out to do this, what is clear from the documentary is how privileged many of the players are. One of the younger players interviewed talked about dropping out of college and earning a living partnering other more affluent players. I am not sure what other sport there is where that is a feasible career option. Interviews with financiers and others reinforced the impression that this is a game for wealthy people with lots of time who then play against other wealthy people (potentially forging other kind of business opportunities). When thinking about getting younger people to play, maybe bridge needs to take a leaf out of chess' book? Chess which has made huge strides in in getting young black players to play (more on this here).
However, the section that I enjoyed the most was the part on cheating. I am aware that cheating is a highly contentious topic within the bridge community and the documentary shows how collusive cheating was undertaken by two (now infamous) partnerships. Watching this documentary in the time of Covid, when cheating again has become an issue with the move to online bridge, made me wonder if perhaps bridge and cheating are more umbilically connected than many bridge folk would like to admit. Given that there have been a number of bridge cheating scandals, perhaps it is worth thinking further about the role of cheating in bridge.
Thinking about cheating from a theoretical/conceptual point of view, the social theorist, Goffman, would argue that cheating makes logical sense if it can be done. Particularly in his work on strategic interaction, Goffman would suggest that cheating can be a strategic choice to make given an assessment of the situation. That is a volatile opinion to voice in the bridge world, but more generally this might be another example (like sexism) where an academic viewpoint brings a very different lens to understanding the role, purpose and sanctioning of cheating.
Christina Ballinger
BAMSA Mind Sport Officer (bridge player)
I was looking forward to watching the film and it lived up to all my expectations. It touches on several themes that interest me: bridge play and strategy, types of players, the history of the game, and its representation in popular culture.
As a bridge player it is fascinating to hear famous players outline their game-play strategies. Gail Greenberg and Steve Weinstein both visualise the game while Martin Seligman's approach is more linear and prosaic.
The interviews with psychologists and neuroscientists are insightful as are comments from professional players. Gavin Wolpert describes the best bridge players in the world: 'We are so good at bridge, it's so hard to get to our level.' Top players may be off the scale, but they are generous with their insights. Bridge players of all standards can learn some useful lessons from the film. As for the scenes of bickering partnerships, let them be a lesson to us all.
The film takes a long view of the game and uses archive film to provide a historical perspective. on bridge. The Pathé News clip of Ely Culbertson is fascinating, as are excerpts from early Hollywood movies of the 1930s.
I have a particular interest in representations of women. The airtime given to men and women seems about equal. However, I came away with the impression that there are more male professionals than female ones, and that more women play social bridge than men do. This may well be the case, but not one of the interviewees raises the question of gender. Full credit is given to Maaijke Mevius, who cracked the signals that Fantoni and Nunes were using to convey unauthorised information. However, when the cheating scandal of 1965 is mentioned, there is no reference to the key role that Dorothy Hayden played in bringing the case against Terence Reese and Boris Schapiro.
BAMSA screening
BAMSA has organised a special screening of ACES & KNAVES as a scene-setter for the BAMSA conference in June which addresses some of the issues raised in the film.
The documentary features Zia Mahmood, Christina Lund Madsen, Boye Brogeland (pictured top with filmmaker Jackie Paré). On 23 May 2021, BAMSA hosted an online discussion about the film with Zia and Jackie. A share of proceeds of sales of tickets for the screening will support the conference and BAMSA's ongoing work.