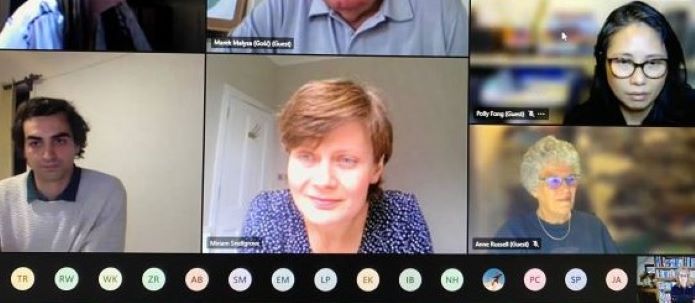 More than 500 delegates from 62 countries attended the 4th international bridge conference.
The University of Stirling and Bridge: A MindSport for All (BAMSA) hosted the online event over four days at the end of June. The success of the conference was due to a concerted effort on the part of many people. The programme involved 70 presenters and panelists from 20 countries. Collaboration among members of the global BAMSA network was the driving force behind the event.
The conference aimed to create a dialogue between academics and bridge players. Representatives of local, regional, national and international bridge organisations were all present. Practitioners included policymakers, bridge teachers, organisers and players. The academics came from a variety of disciplines. Sociology, psychology, sports studies, health sciences, global studies, social work and leisure studies were all represented.
The conference sessions inspired wide-ranging discussions. In his insightful keynote address, Professor Martin Seligman applied his wellbeing theory to the game of bridge. Other sessions focused on the role of bridge in society, and the ways in which bridge benefits people of different generations.
A session on education and digital learning provoked discussion on how best to teach bridge in schools. The conference also demonstrated the importance of addressing inequalities and creating a safe and welcoming environment. Training in equality and unconscious bias for tournament directors, selectors and youth trainers, was proposed at a session on gender.
Covid 19 has changed the way bridge clubs operate. A discussion about opportunities and challenges post-Covid was relevant to bridge clubs planning a return to face-to-face play. Online bridge has been a lifeline for many players but not for all. Some half of all club players stopped playing during the pandemic and bridge clubs cannot be complacent.
To raise awareness of the positive role of bridge in society, the conference showcased the multiple benefits of playing bridge and the social role of bridge clubs. Positive case studies from around the world are particularly relevant to governing parties committed to improving mental health and reducing social isolation.
The Scottish Bridge Union, the American Contract Bridge League Educational Foundation, the Leisure Studies Association and the University of Stirling all provided funding. Thanks to their support, the conference created a valuable online resource for the international bridge community. Recordings of all the sessions are being edited and full reports will appear on the BAMSA website late in the year.
The conference was free to attend. To support Bridge: A MindSport for All, please donate to the Keep Bridge Alive crowdfunder. Another way to make a small donation is to buy a ticket to watch ACES & KNAVES between now and 11 July.
Please follow BAMSA on Facebook page and twitter (@bridgemindsport). Visit the website and subscribe to the e-bulletin to keep up to date with news from Bridge: A MindSport for All.